This week was all about cheese for me. On Wednesday, I attended my favorite event of the week, "Cheesy Wednesday"! So, you order a beer and it comes paired with a plate of cheese, bread and grapes. Amazing -- I know, right!? I'll blog more on that later because I enjoyed myself too much and cannot write intelligently on this matter.
I love cooking seasonally, and I really wanted to try using some different greens for dinner than regular, boring ole' spinach. So I picked up some kale, swiss chard, and bok choy to use this week. Friday I made the kale. So easy, so cheap, so delicious!! All you need is: One bunch of kale, two cloves of garlic, one red onion, red wine vinegar, and olive oil.
Exhibit A:
I chopped the kale into strips and let it cook in boiling water for 10 min. Then I sauteed some red onion in the olive oil until it was soft, after which I added the garlic. Once it was smelling delicious and I could barely stand it, I added the kale to the pan to warm it back up. After a couple more minutes, it was done! I splashed on some red wine vinegar, and served it with herb-crusted chicken and wild rice (no big deal):
On to further, more important matters!
We hosted a fondue extravaganza/feast for the people I knew would appreciate it most. Melting Pot has nothing on me! Seriously, you couldn't pay me to waste 5 more hours of my life at that place for the pathetic excuse for fondue for which they have the audacity to charge you like $90/person.
Matt's not into the classic emmenthaler/greyeur combo because it's too "tangy," so I did gouda/smoked gouda with garlic, Amstel Light. Soooooooooo good. I also had like three times the amount of dippers, that were 100x better than what the ridiculous Melting Pot offers, and it took me 700x less time to make.
We dipped pumpernickel and semolina bread, broccoli, asparagus, cauliflower, pretzels, green apples, grapes, and salami. I blanched the veggies for a couple minutes (key. Someone report this to MP). I bought the meat ends at Shoprite for the salami and was only charged like 2 dollars for a pound of salami (normally like $12/pound if you want to have the packaged sticks).
So, FIRST, I chopped everything up with a huuuge knife: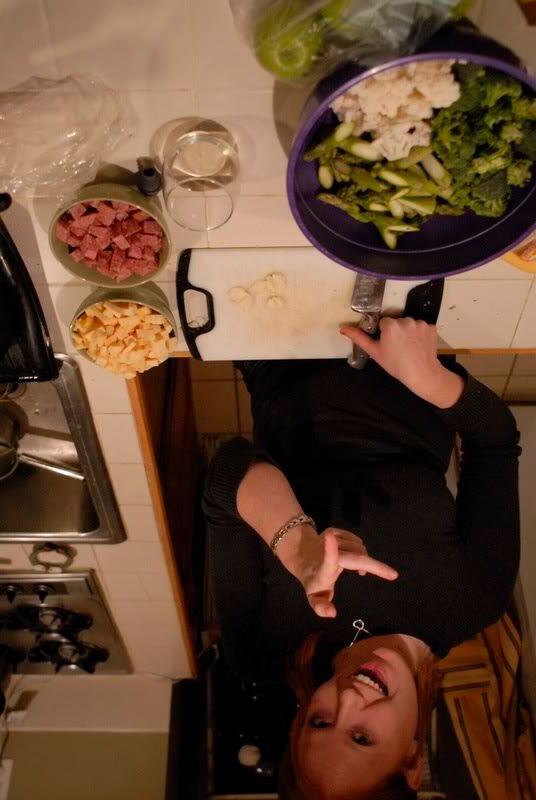 Then I melted the cheese and we ate for like 2 hours:
It was amazing. We're going to do a Guinness/aged cheddar fondue next!!!
One last thing. I would pay double or maybe triple to see any of the movies featured in Seinfeld (except for The English Patient). Prognosis Negative? Sack Lunch? Count me in!!!